The Photographer Who Became An Agency
An interview with Paul Prescott, the founder of Amazing Aerial, who started off as a stock photographer and became an agency. We discuss his journey as a travel photographer and as the founder of an agency like no other.
Feb 14, 2023
By Giovanni Vale
Paul Prescott is an award-winning photographer with more than 20 years of experience. In 2017, he launched Amazing Aerial, creating a worldwide community of 160 talented drone photographers and videographers. He tells us what inspired him to do it.
On the other side of the video call, Paul Prescott is waving a lungi to drive away mosquitoes. In January 2023, the founder of Amazing Aerial set out on a journey to Asia to meet some of the photographers he's been working with remotely in the past years. He joins the conversation from Thailand. "After two years of the pandemic and travel restrictions, I can finally meet in person some people whom I only ever saw on screen." Paul says with a smile, before flapping his lungi once again.
The drone pilots Paul is set to meet are some of the 160 members of Amazing Aerial, the agency he founded in 2017. "I never thought that one day I would open an agency." Paul recalls. "I have been working as a travel photographer since 2006 and I know very well the mix of excitement, adventure, and loneliness that this job represents. With Amazing Aerial, I wanted to offer the structure that I needed and didn't have when I started taking photos. It's an ecosystem where all photographers feel supported."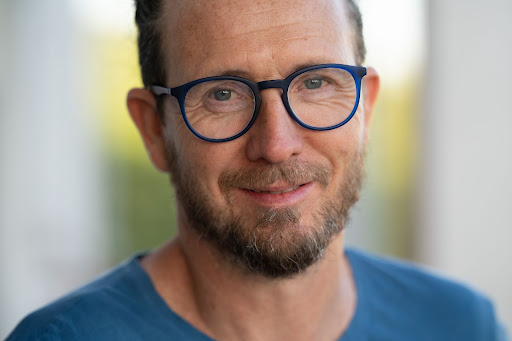 Passion for travel photography
Born in 1972 in the UK before his family relocated to South Africa when he was one, Paul Prescott has travelled and lived in many countries. His family moved to France when he was only eleven years old. There he graduated with a degree in Business and then lived in Hong Kong, London, Denmark, India, and Germany before settling in Croatia. Photography came quite early into the picture, but not immediately as a full-time job. "It was gradual. In 2000 I started travelling and taking photos along the way. My first big trip was to India. I cycled 5,000 km and spent four months there," Paul says.
It was a time when cameras weren't digital, and he would have to regularly change the film. "Every day, I would visit different places, and sometimes I would sleep on beaches or by lakes and rivers. It was an adventure, and I loved it. I was hooked." After India came Israel, Turkey, South America, New Zealand… And the photos from those trips, that Paul carefully sent home, were starting to find their way to the Internet. "A friend told me about iStock and Shutterstock in 2002 and that is when I started uploading my photos. My mom was the first to help me keyword my photos!"
A few years later, in 2006, Paul decided to go all in and quit his job as a marketing manager in Germany. "I knew I would not have been able to continue. I had the feeling I would betray my life if I didn't do something that really inspired me," he says to explain this decision. His passion for photography became a full-time activity as his photos sold online. Paul Prescott's personal portfolio – which is still active and growing – now contains over 30,000 photos and videos. His success as a stock photographer was confirmed when in 2013, he won the Shutterstock Creative Award with a prize of $25,000. However, while being a stock photographer, he still felt something was missing.
The birth of Amazing Aerial
Community!" Paul shouts on the other side of the screen. "The life of a travel photographer seems just too good to an outside viewer. They don't see the challenges of the job, for example when you get sick, endless hours of travel and dangerous situations when travelling," Paul adds.
The financial side is also difficult sometimes. In the last few years, we have seen royalty commissions cut and prices drop, leaving very little for the photographer.
"We photographers need to stand up and find new ways to monetise our talent and knowledge," Paul says in reaction to the changing travel photography market. The idea of Amazing Aerial came from these considerations and also from a technological revolution in photography. Not only were cameras now digital, but they could also fly.
"I bought my first drone in 2014, and drowned it in 2015," Paul laughs. "It was low-tech droning back then, but it was already clear that this new tool would offer completely new perspectives." In 2016, Paul Prescott organised his first photo exhibition in Zagreb, Croatia. He was soon invited to present it in Lisbon as well. "Drone photography has a very strong artistic element. From the sky you see patterns, shapes. It questions you, often surprises you. I thought there was something special in drone photography."
In the summer of 2017, Paul Prescott thought of creating a drone community. "My initial idea was a beautiful aerial collection. I had a lot of experience in the stock industry, and I wanted to put that experience in the hands of other photographers. Stock agencies were paying just a few cents per photo, and I wanted to change that." Amazing Aerial started with five photographers. In a couple of months, they were 23. Paul's contacts in the photo industry were getting their pictures to premium agencies, where you can get hundreds of dollars per photo.
In 2019, Amazing Aerial launched a campaign on Instagram and 700 people signed up to join the team. 160 of them were selected from 60 different countries, while the distribution network grew to 35 partner agencies in Japan, Taiwan, Korea, China, and Germany, as well as premium platforms such as Offset and Adobe Premium. "Our photos started to get published in the world's most renowned media outlets: National Geographic, Conde Nast Traveller, GEO Germany, The Observer, Der Spiegel, Microsoft Bing…." Paul continues.
Most of those deals are direct sales. "We don't want to rely only on agencies. That is why we spent the past two years developing our own client base. We now have more than 1,000 photo buyers we work with." Paul explains. So, while still working as a photographer himself, the founder of Amazing Aerial spent the past years mostly on video chats, speaking with fellow photographers, clients, editors, and business partners. "We managed to create a beautiful community, a human agency, as I like to call it." And the best is yet to come.
"When I started taking pictures, I wanted to show the beauty of the planet so people would fall in love with it and respect it. I think that happened, but it came with consequences. People today can travel very easily, and that has an impact on the planet. We all want to see the world, but mass tourism is damaging it," Paul says. Today, Amazing Aerial has over 60,000 photos and videos from all around the world. Those shots are inspiring, awaking, and sometimes even shocking. They show the beauty of the world and its fragility.
That is why Amazing Aerial launched a magazine in late 2022 with a strong environmental focus. Aerial photography helps us see the bigger picture of the human impact on the planet. The articles published in the magazine are based on the photos and videos shot by the community and tell a story of beauty and fragility, destruction and restoration, dangers and hope. "When you take a photo, there is a take and give. You capture something and then you give it back. The magazine is our way of giving back," Paul says.
Moreover, after two years of not taking anybody on board, Amazing Aerial is now launching its Academy to ensure standard education and quality of submissions. Photographers interested in making a fair living out of their work will be able to go through the course and then join the team, getting access to the agency's distribution network and new multiple revenue streams through giving live and online courses, and most of all to the "ecosystem of support" imagined by Paul Prescott more than five years ago. "This is about legacy, community and earning a fair price for our pictures."
A lot of time passed since Paul started travelling with his analogue camera, burning CDs of photos in Internet cafés, and shipping them home. Technology changed a lot, but the essence of photography didn't. Shooting still means telling a story. And storytelling has an impact, contributing to the change we want to see in the world. When it comes to the photo industry, Amazing Aerial is providing photographers with a revolutionary community-based approach. "We are your support back home," Paul concludes.
---
Stay updated when we post new articles.
We hate SPAM. We will never sell your information, for any reason.